In today's video. You are going to follow me through my morning run in the Boon Keng and Kallang area. I am going to cover HDB flats, condominiums, and landed properties in the vicinity. I will share my thoughts on these properties and identify some undervalued properties that are worth considering for investment. So, please stay until the end of this video where I will also share where to buy the cheapest detached property for a million dollars outside the City Core Region. Here, lets go.
Hi, my name is Alan from AlanWeeProperty. Welcome back to my YouTube channel.
For a start, I started off my morning run in Sungei Whampoa @ St George's Lane. St George Lane is a relatively unknown place to most Singaporean. It is located opposite the popular Bendemeer Hawker Centre. There are mainly HDB flats around this area. As I look through the past transaction. It is surprising to see that the prices of the HDB flats seem affordable today's prices. The older 4 rooms are selling for $630,000 whereas the newer ones are selling for $900,000 upwards. Here, the bigger 5-room flats are selling for $760,000 to $900,000 depending on their remaining lease.  
Most importantly, for those that need big space. There are HDB masionstte here. Are you curious what prices are they going for? Here, back in 2022, there is only a unit that was transacted at more than a million dollars. Frankly, I wouldn't mind staying in an old HDB EM where I am staying near the city fringe. In my opinion, these flats are suitable for those that cherish space and location. For close to $680psf for city fringe property. I still think they are worth the price.
Next, as I run further down the road, there is St George's Towers that has yet to MOP. I am very sure once it MOP. The prices will be close to a million dollars. Are they worth buying? There are no right or wrong answers to it. If you are those city boys or city girls that prefer to stay near the city area and yet you cannot afford a private condominium. Then I think they are still worthwhile to buy. Anyway, HDB flats are practically designed, have low-frills maintenance, and most importantly have a very community-feel living environment.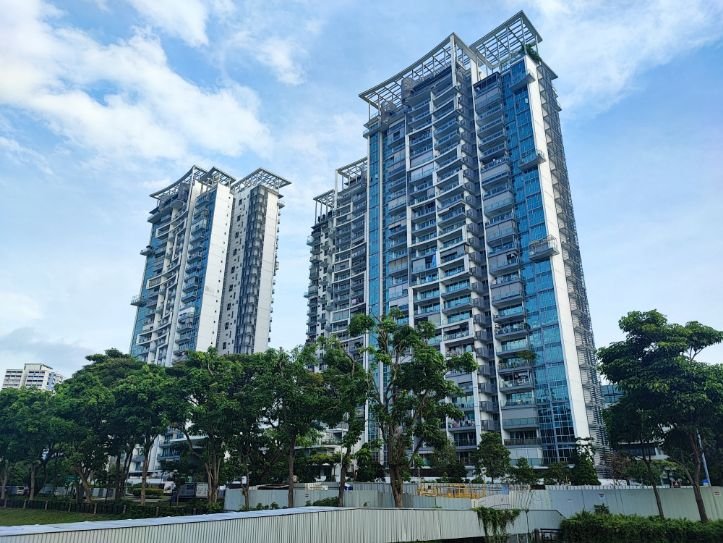 As I run toward Whampoa Park Connector. I am greeted by 8 Riversuites condominium. This condo was developed by UE development and comprises 843 units on 99 years lease. When it was first launched back then in 2012. It was selling at an average price of $1,289psf for the 3 bedrooms. Today, the average price is $1,515psf. This means this condo has appreciated by 18% since launch. Not too bad but I think it can be better. If you happen to be a seller watching this video. I suggest you can start to cash out if you happen to have bought it during launch. After all, this project has already crossed the 10-year-old mark. And sell it before more stock is in the market especially nearer to Potong Pasir vicinity.
Next, I run further down the road and reach The River Vista at Kallang. These are replacement SERS flats that are sold to those owners that are affected by SERS. By the way, I have a strong affiliation with this place and the bridge. I recall I did a video in this location for SkillsFuture Singapore last year. I was their SkillsFuture ambassador back then.
In the video, I mention I was retrenched very early in my career and it was because of circumstances, I become a property agent. Thereafter, I keep reinventing myself and upgraded my skills using SkillsFuture government subsidies. For those that have job insecurity. Do not wait until the last minute to upgrade your skill. Constantly upgrade yourself and embrace changes. The future looks uncertain but come with an open mind and it will be very exciting and rewarding ahead.
That is why after this video shoot for SkillsFuture which I did it for free. I am inspired to become a property YouTuber on top of my sales career. This is my way of transforming for the future and giving back to the community. On another note, this video is not sponsored by SkillsFuture Singapore or endorsed by them. For those that are keen to upgrade, I have leaves the links in the description below. Here, I will skip River Vista at Kallang performance. In short, city fringe HDB flats can buy for the location. In the long term, with limited stock is a sure win thing. So much about HDB flats. Now lets us jump right straight into the private property segment.
Next, I head back into Serangooon Road towards Opal crescent where the famous Tian Wan Tian steamboat restaurant is located. Right behind this restaurant. There is Opal Suites. Opal Suties is developed by Macly group and comprises 19 freehold small 1 to 2 bedrooms apartments. When it was launched back then in 2010. It was selling at an average price of $1,330psf. Today, the average price is hovering around $1,462psf. This means this condo has appreciated by 9% only since launch. Let us take a look at the profitable and unprofitable transactions. Most of the profitable transactions don't make very exciting returns after holding it for more than a decade. Likewise, there are a few that lose money or I mean selling close to the original purchase prices. As most of you that follow me through my Youtube channel will know. I am not a big fan of small micky mouse apartments. So let's move on.
Moonstone Residences and Moonstone View
As I run towards Moonstone Lane, there are a few interesting apartments that are on freehold tenure. They are Moonstone Residences and Moonstone View which are pretty interesting to explore if you are looking at only freehold properties. Moonstone Residences has 76 units and is currently going at $1,200psf. Whereas, Moonstone View which is developed by CDL in 2000 is currently going for $1,300-$1,400psf. Frankly speaking, if you are looking at good freehold properties within the OCR area that will appreciate in the long term. I am sure you wouldn't lose money buying them at such prices.
As I stand on this bridge that divides Opal Crescent and St Michael area. I can't stop praising PUB for the ABC program. I think they did a very good job in maintaining our waterways. In other countries, people avoid living near them because it is heavily polluted. In Singapore, properties near such lokangs are highly sourced after because they appreciate in value. Well done PUB! Link to PUB ABC Program
By the way, there are a lot of other condos in this vicinity. If you are keen. You can always come here to explore them by yourself.
Sri Lankaramaya Buddhist Temple
Here, do you know there is a Sri Lanka Temple (Sri Lankaramaya Buddhist Temple) nearby. I went in to take a look and it look so beautiful and serene. Interestingly, there are also Chinese praying inside the temple. I find it heartwarming that Singapore is indeed multi-culture. There is space for every religion to practice their religion safely. This is Singapore and I love my country.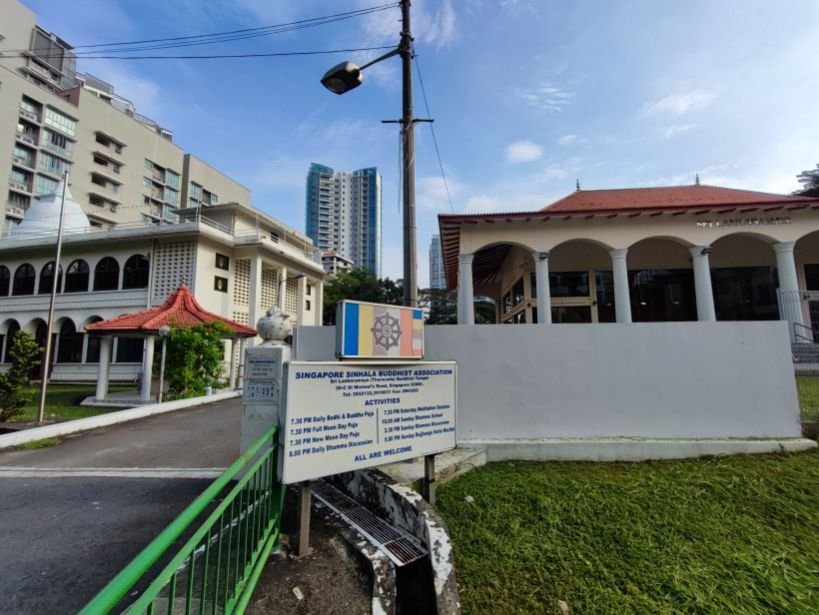 Lastly, as I run back to my starting point. I am fascinated by the landed properties in this area. I did a quick search and most of these landed homes are on freehold tenure. So, please pay attention if there are any sellers that plan to sell. I think they are still worthwhile to buy even at a higher psf.
Remember, if you are a Singaporean citizen and have the means to buy a landed property. Please go and buy a landed property instead of a condominium. Why do I say that? This is because our dear government has already tell you very clearly. Buying a land property in Singapore is a privilege and not an entitlement. As Singapore progress, your landed property will also appreciate in value.
Here, before I call it a day, I have a bonus tip for those that stay until the end of this video. Do you know you can own a detached house for only a million dollars right here in Boon Keng. Yes. This is the cheapest landed property near the city area. This place is called Beng Wan Road and is behind a row of shophouses along Serangoon Road. Not many people would have known of this place. They are mainly detached houses with 99 years lease from 1949. There are currently 25 years on its remaining lease. If you plan to live like a king and retire in comfort for the next 25 years. You can consider buying one of them.
That is all for today's video. I hope you have enjoyed it. By the way, if you have any topics that you would like me to discuss in detail. You can leave them in the description below. Thank you and have a blessed Chinese New Click here to watch this content in Youtube.